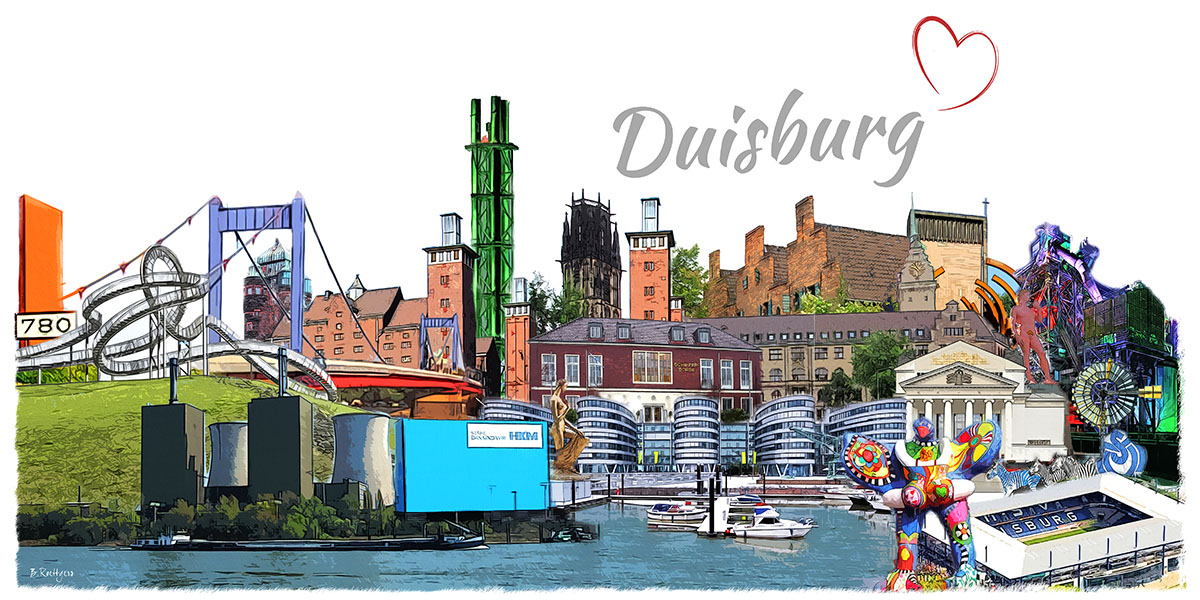 Product details
This city collage is an illustration of Duisburg's landmarks including Rhine Orange, the Tiger and Turtle rollercoaster, the Inland Waterways Museum, Stadtwerke Tower, Duisburg Town Hall, the inner harbour and of course MSV.
Like all city collages, this collage is customisable and expandable. If you are interested in a customised Duisburg City Collage, please contact us.
IMAGE MATERIAL SELECTION
Fine Art Print:
High-resolution photo print on 230 gram "ILFORD" photo paper in semi-gloss.
Canvas picture:
The motif is printed on a real canvas and later stretched on a stretcher frame.
Picture photo print on Aludibond:
Your picture is laminated to a 3 mm thick Alu-Dibond plate. Then we laminate the picture with a protective film. This protects the motif from direct sunlight, dirt and splash water.
Photo print behind acrylic glass:
High quality HD digital print on high performance film. The print is concealed behind an acrylic sheet. The wall suspension is already mounted on the picture.
We manufacture these artistic collage in different sizes and on different materials.
Please select the desired product variation.

Parcel - national shipping
Germany - Free shipping

Delivery time: 3-5 days

Parcel - international shipping
EU countries

Delivery time: 4-7 days

Shipping and packaging:
Until € 149.00 order value | Price: € 36.00
Until € 299.00 order value | Price: € 18.00
From € 300.00 order value | Free shipping

Parcel - international shipping
Europe non-EU countries

Delivery time: 5-14 days

Shipping and packaging:
Until € 149.00 order value | Price: € 42.00
Until € 299.00 order value | Price: € 21.00
From € 300.00 order value | Free shipping

Cash and carry:
Customer pickup at Dümpel Art
Sonnenstrasse 14
40227 Duesseldorf
Germany


Bank Transfer:
Account owner: Helga Duempel
Stadtsparkasse Duesseldorf
Bank code: 30050110
Account number: 1006388290
IBAN: DE28300501101006388290
BIC: DUSSDEDDXXX


Cash on delivery:
Payment at reception (plus collection fee)


PayPal:
Secure online payment with PayPal